This article originally appeared in Emmetts Field of Dreams magazine. Get your copy here.
Balhannah Nurseries has a strong history in South Australia spanning 130 years. The business was founded in the late 1880s when Henry Wicks purchased an existing Adelaide nursery. It was relocated to Balhannah in the Adelaide Hills in 1905 and Henry's sons, Norman and Len, ran the business trading as the Wicks Bros.
Norman was the first orchardist to use bulk bins to store and move fruit rather than the traditional bushel apple cases, and these bins are still hugely popular with growers today. Due to their bulky size and weight, they were difficult to move, so Norman met with local Hahndorf-based engineers the Kaesler Brothers and designed a tractor mounted forklift, highly innovative at the time.
The management of Balhannah Nurseries was passed along the family lines until 1999, when the business was purchased by the Joyce family, one of the largest names in the Australian apple industry. The nursery was relocated to Charleston SA, however the trading name remained Balhannah Nurseries as it was considered a local iconic business and too great a tradition to change.
The move to Charleston proved a successful one, with the already flourishing nursery reaching even greater heights, as the rich loamy soils and sunshine of Charleston providing the perfect environment for trees to grow.
Balhannah Nurseries are known for their diverse variety and high-quality products. They produce a range of ornamental, standard, and weeping trees, and a variety of fruit trees, bushes, and vines. John Deere proves a perfect fit Balhannah Nurseries have been using John Deere machinery for several years and are now proud owners of a 5075GV tractor.
Austin Hutchesson from Emmetts Oakbank explains the benefits this particular model provides the Balhannah team. 'The benefits of using the JD 5075GV is unparalleled to anything else in the market. It has the ability to navigate through rows as narrow as 1.6m, providing growers with opportunities they would not normally get from other 5-series models.' John Deere provides a range of specialty 5-series machines tailored to fit all configurations of rows and crops, including narrow, super narrow, low profile, high clearance and extra wide options. These tractors have been designed for vineyard, orchard, vegetable, high row bed, low clearance buildings, airports, and hundreds of other specialty type applications.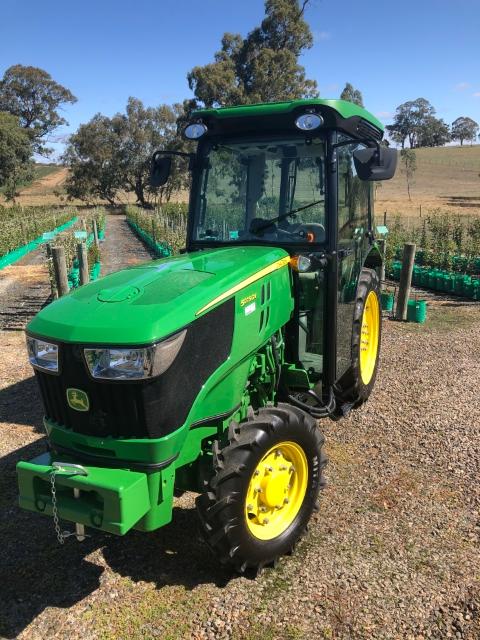 Emmetts have had the pleasure of growing the relationship with Balhannah Nurseries since late 2018, following the acquisition of their Oakbank branch. Balhannah Nurseries sell direct to growers and garden centres are widely considered to be a frontrunner in the industry. Thank you to the team at Balhannah Nurseries for giving us the opportunity to share your story.