During harvest, the marketing team visited some of our Warracknabeal customers. See below the story of the Hofmaiers of Beulah, Victoria.
The Hofmaier farm's story begins in 1888, when Charlie Hofmaier and his wife settled in Beulah, Victoria. They had come to Australia from Baden, Germany via England, and settled in Oakland, north of Adelaide, before moving to Kaniva and eventually Beulah. When Charlie first arrived in Beulah, he bought a brickmaking factory and cleared stumps on neighbouring properties. His purchase of 2,684 acres was the beginning of the family farming business. They had 9 children, with Frederick being the eldest son and subsequent caretaker of the farm.
Pictured here is one of the first tractors he owned, a 1938 Oliver 80, which is still on the property and in running condition. Frederick leased out the farm in the mid 1920s and took his wife and 5 children to Geelong, returning in 1930 when the tenant was unable to make the lease payments due to the depression. He began expanding the farm, but WW1 started and fuel was hard to come by. Luckily, Fred had contacts, and bought all the fuel he needed to keep his tractors running and hid it under the barn.
Coming out of the war, Frederick was able to set his 5 sons up with their own farms in the area, with Ivan continuing to work at the original site. At 93 years old, Ivan still comes out to work on the farm with his son Mark and grandson Karl every day.
During the early 1970s, Mark began his panel-beating career after completing an apprenticeship at Morrows Warracknabeal, opening a shop operating out of the farm shed. It was here that he discovered his passion for restoring vintage hot-rods and American muscle cars, a passion he keeps to this day. It was this panel beating business that helped generate the revenue needed to grow the farm quickly through land acquisitions.
Karl and Mark Hofmaier with a hot rodded 1932 Ford
Mark closed the panel-beating business a decade ago to focus on farming full time, expanding the business by purchasing other farming properties. In 1994, Mark was one of the first to grow canola in the area and has kept it in his rotation ever since. The Hofmaiers now grow wheat, lentils, canola, vetch and oats for hay and occasionally peas.
Karl left school to complete a plumbing apprenticeship in Ballarat, before returning to Beulah to work with his father. He is passionate about precision ag technology and has brought this passion into the family business. GPS guidance has proved successful, saving fuel and increasing
productivity by reducing overlap. Since using technology, they have also noticed a difference in spraying accuracy. Karl says he "couldn't live without GPS, AutoSteer, MTG's (modular telematics gateway) and John Deere's Operations Center."
A strategic decision that the Hofmaiers made a few years ago, is one they still stand by today. They decided to buy pigeon pairs of all their machinery. By doubling up on planting, harvesting and spraying equipment, they are twice as efficient. If there are any mechanical issues or breakdowns, they have the backup of the extra machine.
All machinery is John Deere, and fully integrated. This allows the Hofmaiers to troubleshoot issues through physically comparing the machines, or monitor performance between them and adjust settings for better yield. Having the same brand across the field also makes it easier
for employees to work together. Being fully integrated, they can share screens, guidance lines and coverage maps through MTG's fitted to all machines, or Karl can access settings remotely through Operations Center and adjust if needed. Karl said he "can pinpoint which machine is playing up regardless of the driver. If one harvester is getting better yield in the same paddock,
we can change the settings on the other harvester to gain that extra margin. Seeding depths are similar, one seeder this year had a 10-22 mm difference in the setting, which affected emergence. Next year, we will make sure both seeders are calibrated exactly the same."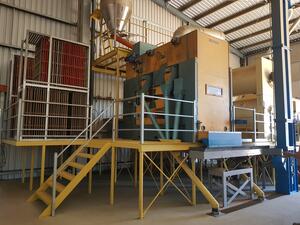 A few years ago, the Hofmaiers decided to build a seed cleaning plant, to reduce the ongoing costs of cleaning their seeds yearly. The plant has been operational for 6 years, with positive outcomes. To add to the character of the plant, and the history of the farm, Mark was able to find two 1970s Ford trucks that had been used on the farm when his father owned it. These two trucks have been restored and are the perfect size to load and unload the seed cleaner.
There's one quote that really stuck with us long after the interview was over. Mark was speaking about his car restorations and said that someone had once given him a hard time for not restoring a car to its original condition. His response to that was "it's our turn." He went on to explain that "with these cars, it's my turn to fix them, repaint them, keep them running and enjoy them. I will keep them for the next owner, and then it will be his turn. The new owner may change the colour or restore it a different way, and that's ok, because it will be his turn. It's no different to the farm. It was my grandfather's, then my dad's, and now mine and Karl's. It's our turn to occupy the land, we will take care of it, develop it and enjoy it. Then one day it will be someone else's turn."
This really speaks to the character of stewardship that so many of our customers hold dear to their hearts. Stewardship of the land, and of family traditions. Thank you to the stewards of
our great land.
This article originally appeared in Emmetts magazine Field of Dreams. To get your copy, click here.