The annual John Deere Christmas Toy Sale is on now! Here are our top picks this year:
5. 1:64 John Deere 9470RX Narrow Track Tractor $21.95 (save $7)
New this year, this scale replica is sure to be a favourite with large tractor lovers.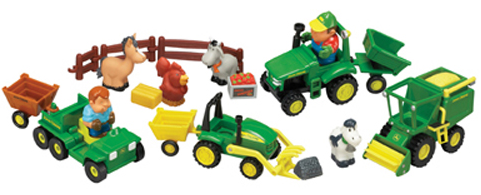 4. 20 piece 'Fun on the Farm' Playset $49.95 (save $10)
This awesome playset includes 4x machines with attachments, multiple animals and farmers, everything your little one needs to create their own farm fun!
3. John Deere Tricycle (steel) $79.95 (save $20)
Features include an adjustable seat, controlled steering, and a rear basket, this pedal-powered tricycle is made from steel and is sure to be hours of fun!
2. 12V John Deere Dual Force Tractor Ride-On $699.95 (save $100)
Features 2 speeds forward (3.5 & 7.3km/h) and reverse. Accelerator and brake on same pedal. Adjustable seat, dual rear wheels, FM radio, removable rear box with tools and rear flashing light with sound. Weight capacity: 40kg. Suitable for ages 3+.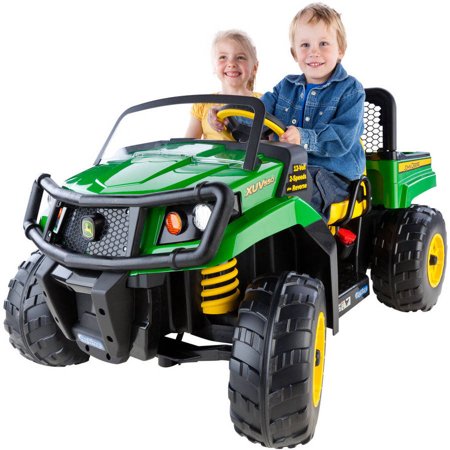 1. 12V John Deere XUV Gator Battery Operated Ride-On (2 Seater) $849.95 (save $150)
Features include a multi-position SmartPedal accelerator that provides smooth driving, automatic brakes and increased riding time. Knobby tread wheels give excellent traction on grass, dirt, gravel or pavement. Two speed shifter with reverse and second gear lockout for beginners (3.6 & 7.2km/h). Rechargeable 12V battery with charger included. Weight capacity: 59kg (2 riders).
The John Deere Christmas Toy Sale is on now and ends 31/12/18 or while stocks last. For the full range, you can view the catalogue here. Please note: stock and availability will differ between branches. Contact your local Emmetts branch for more information.