In February, Emmetts held their first Sprayer Clinic for customers at the Warracknabeal Race Course, featuring the Hagie STS16, along with a John Deere R4045 with steel boom and R4060 with carbon fibre boom, both with ExactApply. John Deere experts provided engaging presentations on machinery, features and technology, and customers were given the opportunity to drive the sprayers around the racecourse.
Presentations from John Deere began with a history and overviews of the John Deere R-series and Hagie sprayers. In 1930, John Deere began selling sprayers with 150-gallon (568L) cypress wood tanks and their exclusive angle iron boom. Fast forward to today, where the new R4060 features a 6000L stainless steel tank, integrated technology and a list of features longer than a 120ft carbon fibre boom, and we can appreciate just how far we've come.
In 2016, John Deere purchased majority ownership of Hagie Manufacturing, the North American market leader in high-clearance sprayers. Hagie sprayers are still manufactured in the Iowa, USA factory under the Hagie brand, but are now available throughout John Deere's global distribution channel. The joint venture allows Emmetts and John Deere to provide a broader range of sprayer options and integrate John Deere's precision ag technology into the Hagie equipment to help customers reduce costs and improve yields. Emmetts staff have undertaken thorough training on the Hagie sprayers, and this was the first big event where they were demonstrated to customers.
Customers also got an in-depth look at nozzles and managing drift and learnt how to pick nozzles that will best suit certain jobs while saving time and money.
With technology becoming more and more integrated into machinery, John Deere specialists also presented on the latest precision ag products, and how they increase spraying efficiency and accuracy.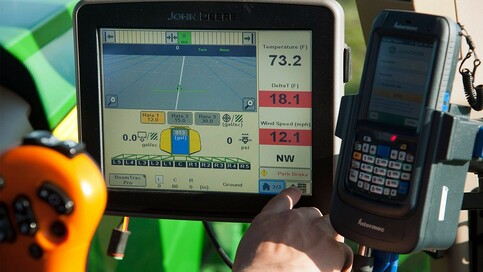 There are many tools and resources available to growers, one being John Deere Mobile Weather. This captures instantaneous, in-field weather information displays temperature, wind speed, wind direction, Delta T, and relative humidity to allow operators to manage efficacy and potential drift of chemical applications from the cab. Customers can to use this weather information to make educated decisions about when to spray.
Customers were also shown John Deere Connect Mobile, an app where growers can monitor job quality in real time and better understand what's going on with their sprayer in nozzle-by-nozzle detail. The app documents and displays performance attributes such as rates, deviation, pressure, ground speed, droplet size and more, helping operators monitor and more easily detect problems that can occur while spraying.
A highlight of the precision ag presentation was seeing the ExactApply nozzles in a spray booth and how they automatically adjust for section control when the sprayer changes speed or turns around to ensure even application.
After lunch, customers were broken into 3 groups and were rotated throughout various stations. Our first station featured a R4045, and John Deere and Emmetts staff demonstrated a fill and rinse.
The demo included John Deere's Load Command system, which can load 4542L of liquid in as little as 3 minutes. Operators simply pull the sprayer up to the tender unit, couple the Load Command tender arm to the Load Command coupler on the sprayer. When the system completes loading, the couplers automatically disengage from each other, allowing the operator to remain in the cab.
Customers were also able to see John Deere's automated rinse system, which allows for rinse water to be pulled from rinse tank, through the pump head, and out of the boom mixing chamber. This flushes chemical out of pump and reduces the risk of residual chemical build-up.
At the second station, customers had the opportunity to jump in the cab of a John Deere R4060 with ExactApply while Emmetts staff demonstrated Turn Compensation. ExactApply and Turn Compensation automatically varies the rate across the entire boom throughout turns. This technology saves money on chemical costs and reduces the risk of crop burn through over-application. Drop sheets and pink dye spray were used so customers could physically see the spray pattern and coverage throughout turns.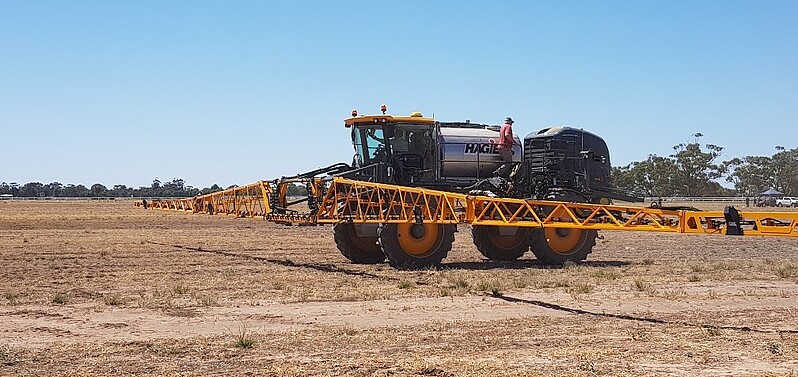 At our final station, customers were given a full walk-around and ride-along in the Hagie STS16. The biggest difference customers noticed between John Deere and the Hagie sprayers (other than the colour) is the front mounted boom. The spacious cab is designed for maximum visibility, so operators can monitor the boom and chemical delivery from their seat.
Emmetts would like to thank all the customers that attended the Sprayer Day, and the John Deere staff for their informative and engaging presentations. We are passionate about the machinery we sell and love any chance to show it off – if you would like to see training on a specific product or service in your area, contact your local Emmetts branch.