Emmetts AGree offer two options in terms of soil and climate data collection, The John Deere Field connect system and the iMetos Pessel system. The reason for the two options is due to infield compatibility differences and cost options which will be outlined in the below information. Both systems are flexible in their data collection sensors and have a platform which can be accessed via smartphone/tablet app or web page, again these are highly adaptable to offer the user more bespoke options to view their data.
(Pictures above Field Connect)
(Pictures above iMetos)

• What do they do?
Field Connect:
The field connect system is a John Deere derived soil moisture and weather station system that can be fully adapted to the customer requirements, probe lengths from 0.5m to 1.5m with up to six sensors depending on the probe, sensors for leaf wetness, soil, air and water temperatures, solar radiation and precipitation. The installation in picture 1 was for a pivot system where two measuring points were set up, one within the first span and the second within the outer span. Each had a 1m probe, tipping rain gauge, temperature sensor and wireless node. Both sent data back to a central control box (shown in the picture) which was located at the centre point. This unit consisted of the main box, a wireless node, aerial and a weather station picking up ambient air temperature, wind speed, direction and humidity. All this data was then sent via a cellular link to the cloud based field connect site which can be accessed from the customers My John Deere log in, on a smart phone or tablet.

iMetos Pessl:
The iMetos system by Pessl instruments is a fully adaptable moisture probe and weather monitoring unit. There are a number of probe options with adaptable sensors, the triscan offers soil moisture, temperature and salinity within the 'drill and drop' probe model. This is available in 30, 60, 90 or 120cm lengths with sensors every 10cms. The climate data options are numerous with the system offering sensors to measure in crop canopy parameters such as temperatures and leaf wetness. The field climate options offer an array of sensors for wind, light, wet and dry bulb temperatures, precipitation and remote crop imagery. The picture 2 shows a basic system installed in a melon crop and vineyard, the probe is connected remotely using an eco D3 node which sends data back to an iMetos 3.3 environmental monitoring system. This has wind speed, precipitation, air temperature, relative humidity, leaf wetness and global radiation sensors all collecting data. Once set up the data is sent via cellular link to a cloud based site which is fully adaptable for the grower, this can then be viewed on smartphones, tablets or any web based platform. The additional features of this system compared to the Field Connect option is the development of weather forecasting and disease modelling. These utilise the data sourced not only from the units in the field but other local stations and meteorology bureau data to produce forecasts and crop specific alerts to growers.

• Cost of technology:
None of this equipment can be considered low in value, however the consideration of value for money can ensure a system that meets the requirements for the grower.
The Field Connect options have reduced in cost since its release, however it is still quite pricy. The system shown in photo 1 with the two probes stations and the weather station at the centre point has a value in the region of $4000 for each probe station and $5500 for the weather station gateway. So all in all $13,500 hardware costs, the subscription can be paid either in three six or 12 month blocks at a value of approximately $1000pa. This covers all the cellular connection and data supply portal for the gateway which can host up to eight probes within a 1.5km radius.
The iMetos system has a different cost structure in comparison to the Field Connect in that it is highly adaptable so in reality it is possible to simplify the system to meet growers budgets. The wireless probe stations with triscan drill and drop probes range from $1,000 to $2,500 depending on the probe length with a radio node costing $780 per probe. This then feeds back to the weather station as shown in picture 2 which costs $4,700 and can handle up to sixteen probes within a 1.5km radius. So for a modest system as shown in picture 2 the hardware costs can be in the region of $7,500. The subscription costs for the system including the disease modelling are $255 per station per user per year, however depending on the number of different crop types and stations this cost will alter slightly. In addition a data sim card needs to be purchased from a suitable telecommunications provider to the area.

• Accessibility:
All this equipment is sold and supported by Emmetts/Agree throughout the Victorian and South Australian branches. The sensors and majority of hardware for the iMetos system is produced by Scentec Industries in Adelaide., wheras the Field connect system is available through the majority of John Deere dealers. So for availability of information and parts neither system is lacking.

• Installation:
Both of these systems have specific installation equipment which can either be purchased or Emmetts/Agree trained staff will install the system and maintain it for a fee. The installation hardware for both systems really only consists of a soil auger system for the probes and a place to attach the weather station to, which can be a pole or post which ever is convenient for the crop specific installation. The time scales depend on the complexity of the system however most single probe systems can be up and running in two to three hours.
Imetos probe installation Field Connect Probe installation
With consideration for location, management and enterprise compatibility, both of these systems need careful consideration before purchasing to ensure they meet the demands of the grower on all levels. Farm operations such as harvesting, planting, spraying and cultivations all have an affect on where and how these systems are installed. The probes themselves protrude above or at best are level with the ground and do have wires attaching them to their wireless nodes, these in themselves do not make it convenient for ground engaging equipment. It is wise to remove the probes for these operations, which for short season crops in the horticultural industry makes sense, however in broad acre should be a consideration for system compatibility. The locations of the central weather station or gateway due to their wireless options can mean that they have a more permanent place for installation, however for long season/perennial crops they may be in the way for harvesting or spraying operations due to their location in the row or protruding above the crop.
Like most monitoring systems there is a level of management required to ensure accurate data is collected. This is particularly important in fast growing vegetative crops where rain gauges and light sensors can soon become overgrown, or wildlife has a tendency to chew or peck at wires. For this reason it is important to look at the system once a week to ensure nature has not interfered with any of the data collection systems. Saying this if the intended installation is into a grazing system careful consideration should be taken as to how the system is installed since livestock have a tendency to destroy anything above ground unless it is either high enough or strong enough. Both the field connect and the iMetos are suitable for grazing systems, however prior to purchasing, hardware and installation methods should be considered carefully.
• Accuracy/Precision:
The accuracy of any system like this is dependent on the install and maintenance of the sensing hardware. Once installed probes in particular need time to settle before accurate data can be drawn from the sensors. Depending on the soil type and method of installation this can be from a matter of 24 hours to a week. The drill and drop system is a dry installed probe which tends to settle quicker and viable data can be gathered within 24-48 hours. The field connect however is a wet install, requiring soil slurry to help seat the probe, this kind of system requires longer before accurate data can be drawn from the readings. The sensors themselves for both systems are all either Sentec manufactured or designed sensors for the probes.
• Data accessibility, formatting, Interface and compatibility:
The field Connect and the iMetos systems both use a cloud base platform for presenting the data from the field sensors. These can be accessed via PC, smartphone or Tablet with complementary apps which work via IOS or Android systems. This data is sent from the gateway at intervals which can be selected by the grower, iMetos updates data from the wireless systems every 15 minutes and Field Connect every 30 minutes to the gateway which is stored on the data logger before being sent to the cloud.
The data itself is presented in a format that can be specific to the grower requirements, the changeable parameters on the data are items such a units, timescales, which sensors to compare/select and many more options which needs to demonstrated to fully understand how bespoke the data delivery can be.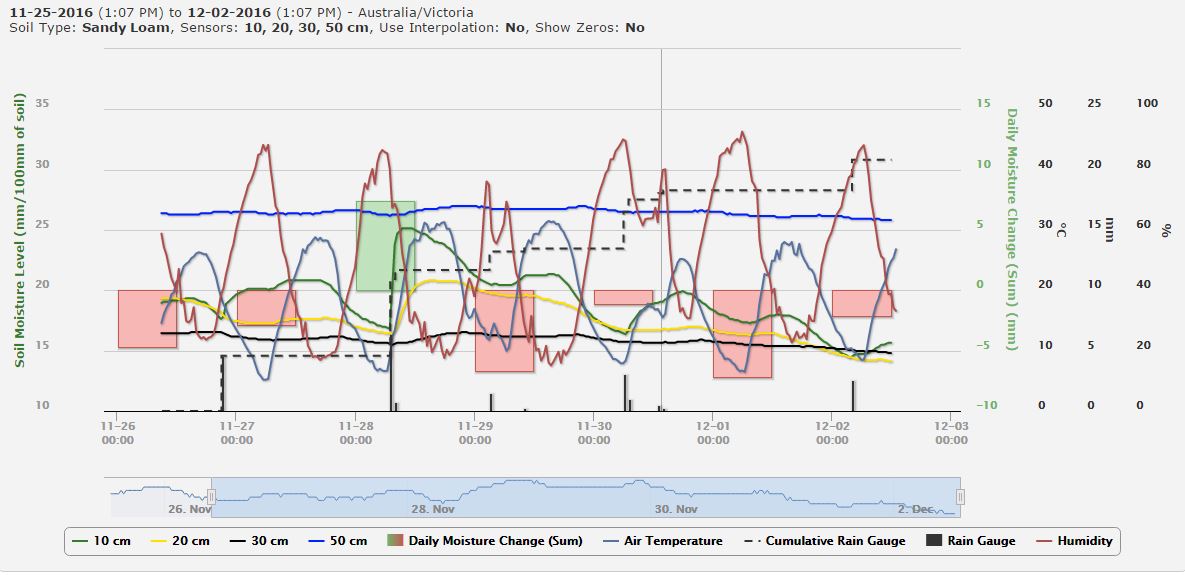 Field Connect platform picutre above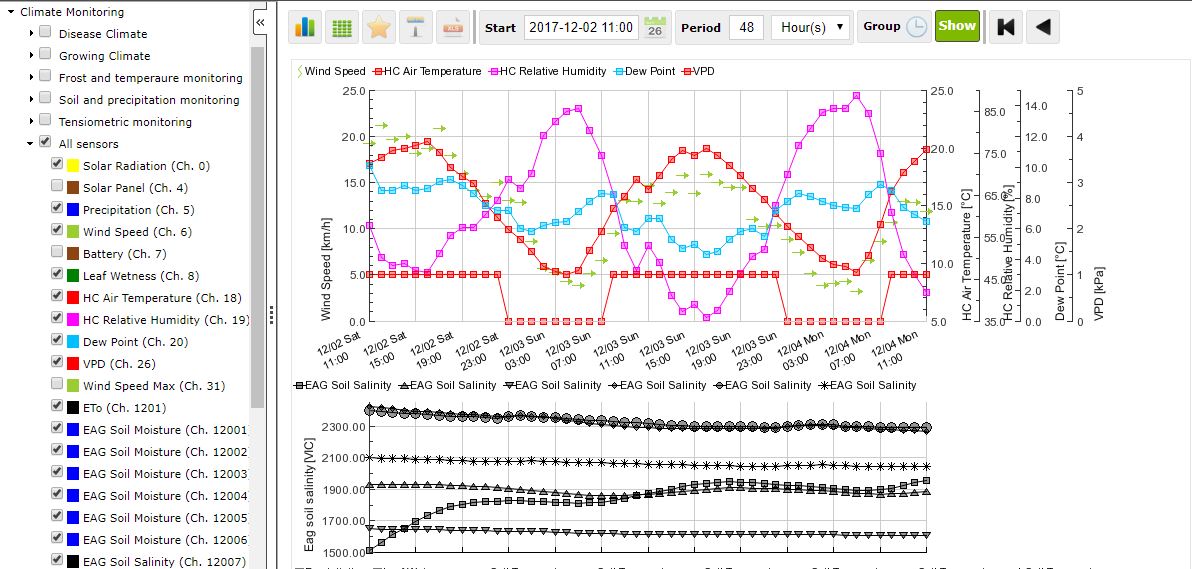 iMetos Data Platform picture above
The two examples above show a snap shot of how this data can be presented on a PC or tablet, individual data points can be selected to draw down to specific times or events enabling a grower to pinpoint areas for further investigation or management. The app options allow for the disease modelling and forecasting with iMetos, field connect allows for alerts to be set up should data points range outside grower set parameters.
• Strengths and Weaknesses:
Both these systems have adaptability for user requirements and allow for additional development through hardware and software interface. The Field Connect system comes with the John Deere name and all that is synonymous with what it means to people within the industry. The limitation of not having salinity and temperature suits some users who are only chasing the basics. The user interface works is easy to read, alter and understand enabling growers to utilise a simpler system which still gives good accurate information.
The iMetos system has more adaptability for the field, which offers the grower a greater amount of information with the added option of crop specific disease modelling and weather forecasting. The user interface can look more confusing however once mastered becomes a very informative platform.
Both systems are great tools to optimise data for crop input and monitoring. The use of moisture probes with temperature and salinity sensors is becoming more wide spread as the importance of soil health and crop nutrition becomes more apparent.
For more information on these systems please go to:
https://fieldconnect.deere.com
Or contact your local Emmetts John Deere dealer.