History
John (Jack) Richard Emmett was born in Lang Lang, Gippsland and raised on a small dairy farm. Being the second son in a family of three, there was little opportunity to remain on the farm, so on completion of schooling he began working at the local bank. Disillusioned with his career prospects there, he left to operate a dairy farm on a share basis. During this time, he purchased a small tractor, some tillage and hay equipment, and operated in a contracting capacity for the local dairy and potato farmers.The business grew and he soon expanded, sometimes employing up to 10 staff during a busy season.In the early 1950s, Jack saw an opportunity for hay baler contracting on the wheat plains of the Wimmera region.


Travelling initially to the Nagambie area while searching for straw to supply the markets in Melbourne, he was directed to the west of the state and thereby began his association with the Rupanyup area. The contracting business, being seasonal, was initially run from the old Royal Hotel. In 1956, seeing the demand for balers and hay equipment growing, he began selling New Holland hay equipment and Chamberlain tractors from a room in a rented shoe store on the main street of Rupanyup.


Emmett Motors was established in 1957 when a local garage and service station was purchased in Cromie Street, Rupanyup. It was during this year that John married Myra Cooper, a nurse at the Wimmera Base Hospital. Together, they raised their family of 5 children in the local community of Rupanyup.In 1959, Jack was approached by Massey Ferguson (then a major player in the Australian agricultural scene) to market their full line of products. This partnership flourished, and many train loads of Massey Ferguson headers, combines, mowers, balers, rakes, scarifiers and tractors arrived at the Rupanyup station on a weekly basis.In 1966, the business expanded to Horsham with the purchase of land located between the old Horsham Foundry and Ampol service station. To accommodate the growth of business, the building and site were gradually expanded on, with the purchase of various housing blocks in the vicinity.


This location worked extremely well over the next 36 years, but with the ever increasing size of farming equipment and limited space within the centre of the city, the decision was made in to move to a 2.5Ha site with a 200m frontage on the Western Highway, and the new dealership was completed in 2002.During the years, the company won many awards for sales, topping the national figures on a number of occasions. Along the way other franchises were added to compliment the product line up, including John Shearer tillage & seeding equipment, Jetstream spraying equipment, Grizzly discs and many other one line manufacturers.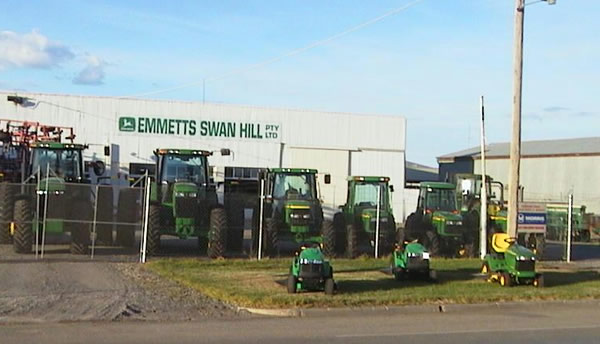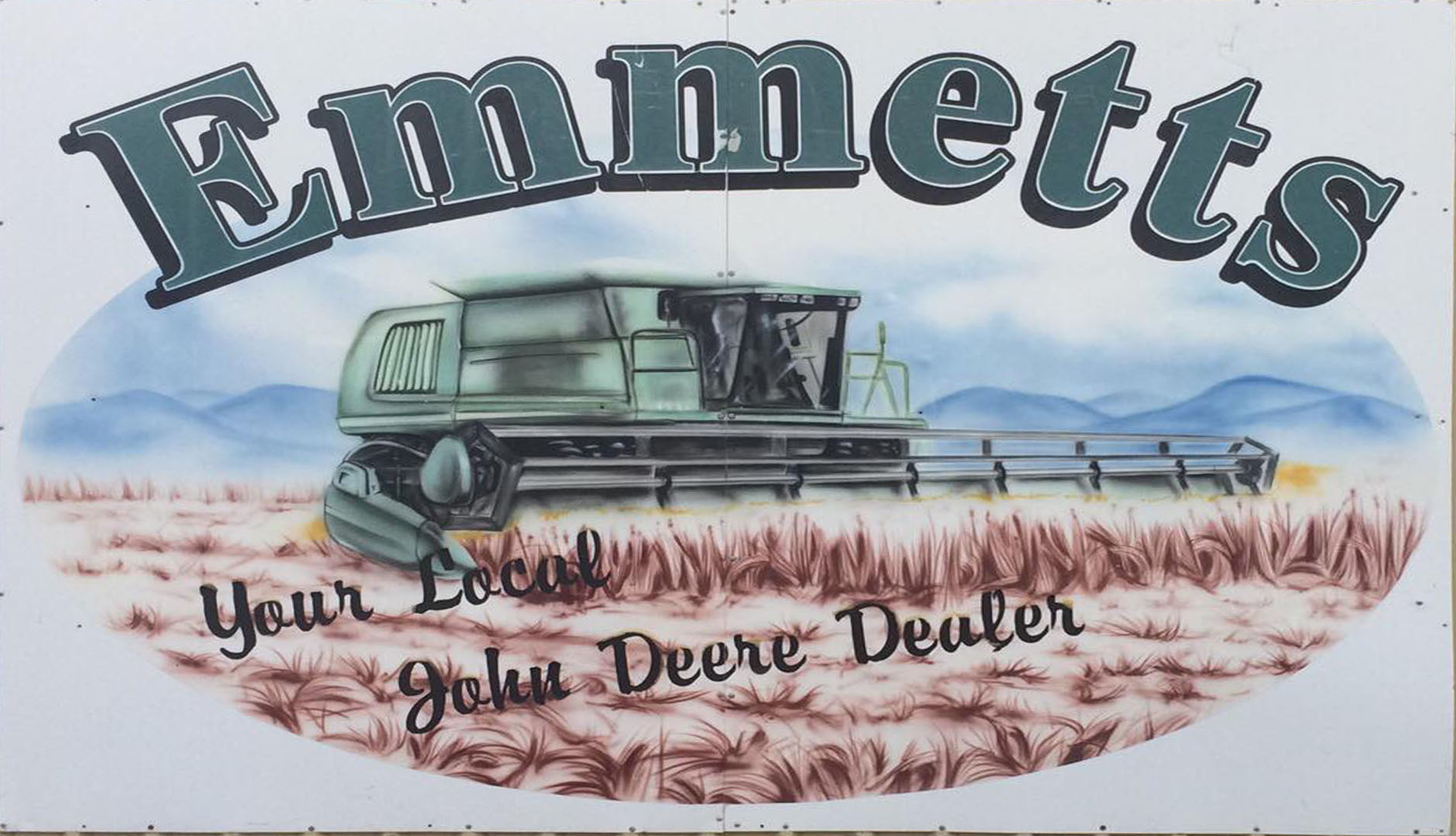 In 1989, after more than 30 years with Massey Ferguson, the franchise was relinquished, mainly due to a downgrading of the Massey Ferguson product line up world wide, i.e. no large 4WD tractors or harvesters, where a majority of Emmett's sales came from.An opportunity arose at this time to take on the John Deere franchise for the Wimmera region of Victoria. In the first year as a John Deere dealer, Emmetts topped the sales figures for one of the four Australian regions. Further expansion took place in mid 1999, when the Group secured the John Deere franchise in the Swan Hill. The initial dealership was located in Karinie Street, but the business quickly outgrew this and a new 5Ha site was purchased on the Murray Valley Highway.In October 2015, Emmetts acquired Rosenberg Machinery Group, a family owned business in South Australia.


The acquisition saw an additional six branches added to the four existing Victorian branches. In March 2018, Paech Motors in Oakbank, Adelaide Hills, was acquired, strengthening Emmett's commitment to the agricultural and landscaping sector in South Australia.The Emmetts Group of Companies is now controlled by the board of directors, made up of Jack's 4 sons, with Peter Emmett being the overall Group Managing Director.Franchises now include John Deere tractors, harvesters, hay, lawn and grounds care equipment, Goldacres, Hardi and Green Tec spray equipment, Bourgault seeding equipment, MacDon windrowers and fronts, Krone rakes and balers, Vicon spreaders, Westfield augers, Grizzly discs and Loxton and Leith slashers, Kelly and Phillips Rotary harrows and pickup fronts.As farms continue to expand their land size, the need for quality equipment, parts, service and technology becomes a core contributor to overall production and profitability.


Emmetts has reacted to his by expanding the number of branches to provide quality customer service to the agricultural community that is second to none.Emmetts recognises the diversity of customers across broad acre, livestock, hay, horticulture and viticulture production. As well as serving primary producers, our customers include agricultural contractors, councils, golf courses, and gardeners within our region.


Emmetts is proud to have eleven branches in Kadina, Roseworthy, Murray Bridge, Oakbank, Parndana, Pinnaroo and Renmark, South Australia, along with Rupanyup, Swan Hill, Horsham and Warracknabeal in Victoria. The Emmetts Group of companies currently employ over 200 staff, trained in Sales, Service, Parts, Precision Agriculture, Information Technology and Administration.We pride ourselves in the long term commitment given by our staff, many with over 10 years and some over 30 years service with the company. We have also employed and trained many people through apprenticeships over the years, and have encouraged their development in their chosen careers.